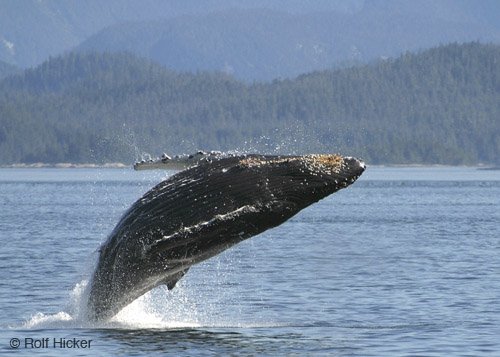 Between the months of January and March, a portion of the humpback whale population migrates to the warm waters of the Caribbean, and can be found close to many of the islands represented by Coldwell Banker Island Affiliates.
This is their mating season, and divers and snorkelers can hear the long and complex songs of the males as they communicate with their better halves. Very social, the humpbacks regularly travel in groups of  two or more and you can often see the whales with their calves.  They love to flipper slap, breach, lobtail and generally frolic sometimes close to a boat which they approach out of natural curiosity.
At close range they are easily distinguished by their exceptionally long flippers, knobbly head, and the white and black coloration on the underside of the fluke(tail). They can be 50′ (15 m) long and live 70+ years.  Thousands were wiped out by commercial whalers but fortunately, since 1966, they have been under the protection of the Whaling Commission. 
It is important to remember that these grand and noble mammals deserve respect and are not a sideshow. You have a rare opportunity to experience and observe them in their natural environment.  Enjoy, protect, and educate others about this invaluable resource of our island.
(photo courtesy of Whale-images.com)